---
---
Download tables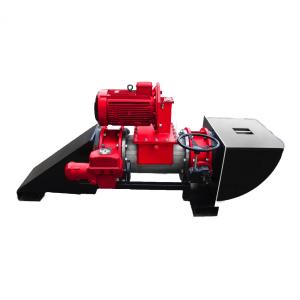 Why Kalkman?
Experience since 1924
Reliable partner
Personal contact
Tailor-made solutions
High quality
Ballastjets
The ballast jet allows us to expand your sailing area and minimise lost time. The ballast jet is a simple and effective system that enables the intake and discharge of ballast water.

We can expand your sailing area and minimise lost time, without any great effort on your part. Kalkman has developed a simple and effective system that makes it possible to take in and discharge ballast water. The Kalkman Ballastjet is characterised by its ability to generate large water volumes at a relatively low capacity, its low in-build space and the absence of pipes. Full performance can also be realised when the ship is sailing. This reduces the time needed to travel routes with limited vertical clearance.
Due to the low assembly of the ballast jet, it can be comfortably emptied. To do this without misfiring, the electro motor is regulated using a frequency regulator. The revolutions of the motor can be continuously regulated using a remote control. Closing valves can be fitted on the outside as well as the open side. A closing valve is required. Further, manual or electrically operated closing valves can be selected.
Fast intake and discharge of ballast water
High water yield at low capacity (1200 m3/h at 11 kw)
Full yield when ship is sailing
No pipes necessary
Easy access to propeller
Energy-efficient
Electrically driven
Touchscreen, manual and remote control operation
Can be supplied with E-box featuring all necessary components
Stainless steel 316 pump casing
Larger capacities upon request