---
---
Download tables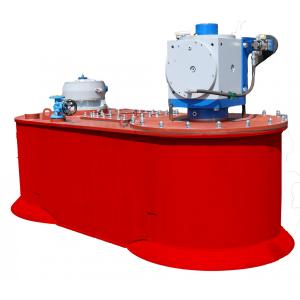 Why Kalkman?
Experience since 1924
Reliable partner
Personal contact
Tailor-made solutions
High quality
Steering grid type Gamma
Because inland ships have a flat surface at the bow, Kalkman saw the opportunity to develop a bow thruster that could suck up water from under the ship using a horizontal propeller, and pass it through a bow-thruster housing to a 360°-revolving control grid, whereby thrust power in any direction is obtained . This model has been further perfected in the many years it has been built, and is available in capacities up to ca. 600 kW. A major advantage of this type of bow thruster is that it does not have parts that extrude below the surface and has no openings in the skin that could slow the journey.
As ships have become bigger, so have the bow thrusters. This has resulted in greater dependency and vulnerability. That is why duo bow thrusters are currently being implemented on a regular basis.
Horizontally rotating propeller
360° revolving control grid
Change propeller without putting into dry dock
Propulsion in every direction (depending on depth)
Access to propeller and control grid
No tubes or protruding parts
Limited dimensions
Available with route-dependent and/or front operation.
Suitable for continuous use
Minimal maintenance costs
Capacities from 20 -600 kW
Optimised in-house design