---
---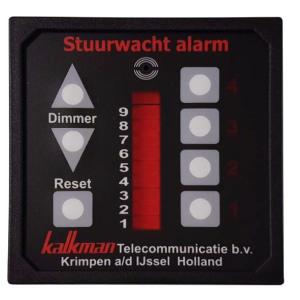 Why Kalkman?
Experience since 1924
Reliable partner
Personal contact
Tailor-made solutions
High quality
Stuurwachtalarm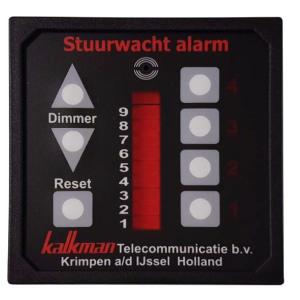 German research shows that a steering alarm can help to significantly improve on-board safety!
If you value safety, the Kalkman Steering alarm is essential for your wheelhouse. Two sensors are used to continuously monitor your navigator.
The steering alarm will warn you if movement is not detected within a particular period (which you have configured). The alarm will sound in various warning phases. This means other personnel can be notified and potential accidents can be avoided.
Properties of Kalkman Steering alarm
4 time intervals
Dimmer for lighting
Reset button
Interface with PC possible, which means the system need not be built into the dashboard
As of mid-2019, it will also be possible to integrate the steering alarm into the Kalkman control panel (touchscreen). With this system we connect all Kalkman products.
A small investment can help to prevent major damage!
Request quote
Why Kalkman?
Experience since 1924
Reliable partner
Personal contact
Tailor-made solutions
High quality